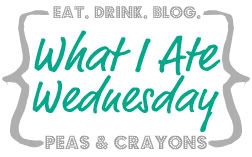 I ate: a waffle topped with strawberries and a side of scrambled eggs. Lately I've been mixing a little bit of milk into my eggs before I pour them into the skillet and they come out SO fluffy. Do you know this secret?
Miss A: egg frittata cups (I make a batch every now and then and freeze them for quick breakfasts and lunches) with hashbrowns, carrots, spinach, and celery. Most of the vegetables are tossed aside, but I know some bites get in there!
I ate: a tuna salad wrap with lettuce, dried cranberries, walnuts, and swiss cheese. I also had some crackers and string cheese.
Miss A: A ham and cheese wrap with some crackers that she stole from me :)
Snack was late because we went to the park in the afternoon. Miss A had some cheerios there and had something else when we got home.
I ate: a yogurt bowl with granola, and two pumpkin cookies
Miss A: watermelon, animal crackers, and some of my yogurt. She always wants to try whatever I'm having!
The hubby was working so I made a jazzed up toddler friendly meal.
I ate: homemade baked chicken tenders (coated in flour, egg, and panko), pasta with a homemade mozzarella cheese sauce, and roasted broccoli
Miss A: Everything! She loves this meal, I think it's one of her favorites.