It's time for another What We Ate Wednesday! I'm trying to eat more fruits and veggies and I'm doing my best to incorporate them into very meal. I apologize for the mediocre photos this time, I don't know what was up with the lighting in my kitchen yesterday.
Oh and if you scroll alllll the way down, you're in for a pleasant surprise- a fun giveaway!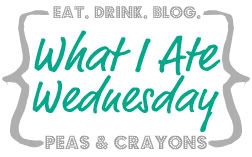 I ate: a slice of whole wheat toast with PB and bananas. I wasn't feeling breakfast and didn't want to eat much so I only had one slice. Sorry about the two bites..almost forgot to take a picture!
Miss A: toast, without peanut butter, and banana, a recent favorite fruit!
By the time lunch rolled around I was pretty hungry! I did have coffee and a cookie before, while attempting to get Miss A to nap. She skipped her morning nap all together and didn't take a nap until late in the afternoon.
I ate: a whole wheat wrap with turkey, sliced apples, and brie. So good! Along with chopped tomatoes, orange pepper slices, and cucumbers.
Miss A: a whole wheat wrap with ham and cheddar cheese
I ate: sweet potato chip, trail mix, and some chocolate
Miss A: a few crackers and her traditional favorite, watermelon
t
I ate: a variation of baked ziti with lean ground beef, orange peppers, tomatoes, topped with feta and mozzarella cheese
Miss A: the same, without the veggies. She's not a fan of tomatoes or peppers.
And now, a fun treat for you-
giveaway time!
Recently I was contacted by
Mujus
to do a giveaway and I jumped at the chance. If you take a minute to look through their
website
you will see many unique creations. Mujus jewelry is all handmade and they use
"

sustainable and recycled materials to make beautiful accessories".

Here are a few photos of their beautiful work.
Mujus is giving away a $50 credit to anything you see on their website!
This giveaway is open to all, with a valid email address.
a Rafflecopter giveaway