Happy Wednesday! It's time for another round of What We Ate Wednesday, except this week I'm doing something different. Instead of sharing with you what Miss A and I ate throughout the course of one day, I thought it'd be fun to share what we ate over the weekend.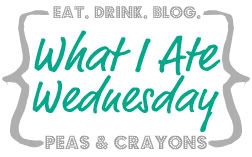 We had family in town and whenever we get together we like to go out and EAT! Seeing as we've only been in the area for four months, there are still plenty of new restaurants to try. We kicked off the weekend with a trip to Starbucks, where everyone got pumpkin spice lattes and I got a slice of pumpkin cheesecake. Oh my God, was it delicious. I was greedy and didn't want to share because it was that good, but of course, I couldn't deny Miss A and her rapidly developing sweet tooth. Like mother, like daughter. Oy.
Friday night we checked out a local sushi place. My husband and sister-in-law's shared a plate full of three different rolls. This one pictured was my favorite. I forget what was in it, but it was called the New Yorker.
I ordered agave lime salmon with coconut ginger sauce. Hands down the best salmon I've ever had. The sauce on it's own was to die for!
As for Miss A, she had her own bowl of white rice with lots of veggies and she ate it happily on my lap.
We ate breakfast at home every day, but for lunch on Saturday we went to a small cafe that has the best cakes and pastries, but they also have amazing sandwiches. This sandwich is called the Brie, Turkey, and Apple Panini. All of us ordered the exact same sandwich because it just looked so good!
Miss A had lunch before we left the house, but of course, that didn't stop her from sampling my bread and turkey.
For brunch on Sunday we went to this amazing breakfast place. It's only open for breakfast and the reviews on Yelp were amazing so we had high expectations. Everyone was pleasantly surprised. My father-in-law said it was the best breakfast he'd ever had. Brie and sauteed apples were an appetizer. A sweet potato pancake was shared between my sister-in-laws, and my mother-in-law had this huge bowl of blueberry quinoa with homemade granola. I wish I had a picture of that to share with you (I've never even heard of blueberry quinoa!) but this is what I ordered: an omelette stuffed with asparagus, roasted red peppers, and goat cheese.
Miss A had a turkey wrap with- can you believe it- strawberries!! My jaw literally dropped open when my mother-in-law offered her a strawberry slice and she actually ate it! I wonder if she'll do the same for me, or is it special because grandma gave it to her?
I hope you've enjoyed this different take of What We Ate Wednesday.