Today I'm participating in
What I Ate Wednesday
, a link up I've always wanted to try. I'm always looking for new ideas on what to eat, I get bored easily, especially with breakfast and lunch! I took a different take on it and decided to show you what Miss A and I ate one day. Here we go!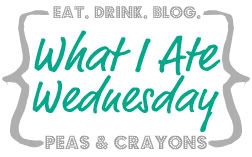 Breakfast: 8:15 am


I ate: frozen waffles with sliced bananas, granola, and honey

Miss A: toast with applesauce and slices of banana (which she poked at and fed to the dog)
Morning snack: 10:30 am


Miss A: Strawberry yogurt and a couple of Mum Mum's
I ate: A Kashi cookie spread with peanut butter and a couple graham crackers dipped in peanut butter
Lunch: 12:30pm
I ate: A peanut butter and jelly sandwich with a sliced apple (it was a peanut butter kind of day!)
Miss A: A whole wheat tortilla ham and cheese melt
Afternoon Snack: 3:00pm
I ate: Greek yogurt with sliced bananas, granola, chocolate chips...and a swirl of peanut butter!
Miss A: toddler cookies and watermelon
Dinner: 6:30pm

I ate: garlic roast chicken, rice pilaf, and cesar salad. So good!

Miss A: pieces of chicken and a few bites of rice, she usually eats whatever we're having for dinner
Happy Wednesday! What did you eat today?