I missed linking up for What I Ate Wednesday last week. I'm excited to share what Miss A and I ate recently. Some good stuff, and some not so good.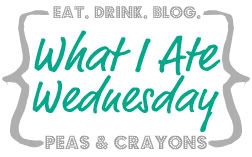 I ate: Pumpkin chocolate chip pancakes
Miss A: pumpkin pancakes, without chocolate chips. She LOVES pancakes.
I ate: a grilled ham and cheese sandwich on whole grain bread with slices of kiwi
Miss A: a toasted english muffin topped with a slice of ham, cheese, and spinach, cut into bite size pieces
You know I tried to get her to eat some kiwi. Oh, and she's holding a food pouch because that's usually the only way I can get fruit into her, but she only took a few slurps
After lunch I folded laundry and Miss A sat in her monster chair watching Mickey Mouse Clubhouse. This was too cute for me not to share!
I ate: some really unhealthy treats...graham crackers with Nutella and a handful of candy corn M&M's. I'm officially addicted to them!
Miss A: yogurt, two animal crackers, a couple of Cheerios (because she saw the box), and a few graham crackers, without Nutella ;)
Miss A: the same, including the broccoli!! Win win.