It's Wednesday and I'm linking up again for What I Ate Wednesday, or in my case, What WE Ate Wednesday. Here's a look at what Miss A and I ate one day last week!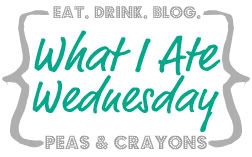 Breakfast: 8:15 am
I ate: scrambled eggs with provolone cheese and spinach, a slice of whole wheat toast with apple butter, and some strawberries and bananas
Miss A: scrambled eggs with cheese and spinach, untouched strawberries and bananas, and a few slurps of her fruit pouch
Yeah, it was a cranky morning.
I ate: honey mustard chicken with lettuce and cheddar cheese in a whole wheat tortilla with a side of watermelon
Miss A: a ham, spinach, and cheese quesdilla with a side of watermelon (notice how she banished her sliced bananas to the side of her tray?)
Snack: 3:00pm
I ate: crackers with Laughing Cow strawberry cream cheese spread (it's delicious) and a Kashi cookie. LOVE Kashi cookies!
Miss A: watermelon, again, and a couple of my crackers
Much happier at snack time!
Dinner: 6:30pm
I ate: Chicken Primavera- sauteed chicken with zucchini, yellow squash, and red peppers over pasta
Miss A: the same, chopped chicken, pasta, and a few bites of squash. Red peppers and the squash were banished to the side of her tray