I'm loving linking up every week for What I Ate Wednesday. It always amazes me how much of my day revolves around food every time I snap a picture of what we're eating. Since my pictures were just terrible last week I whipped out the real camera so that you would actually find our meals appealing! I hope these posts give you inspiration on what to eat for breakfast, lunch, or dinner, along with some new ideas for your kids. Miss A has had quite the appetite lately and I'm loving it!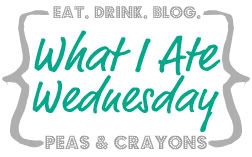 I ate: my favorite- whole wheat toast with peanut butter, bananas, honey, and granola
Miss A: toast with applesauce and banana slices
We've gotten into the habit of having a snack right before nap time. Miss A will walk over to the pantry when she's ready, grab a yogurt, and wait by her high chair.
I ate: pumpkin pie yogurt with granola and chocolate chips
Miss A: two banana cookies with yogurt
This is what happens when I allow her to "feed" herself. She's insisting on being more and more independent while she eats, but of course, she hasn't gotten the hand of holding a spoon and feeding herself that well. She can manage fairly well and there are plenty of bites that make it in- but...this is what happens sometimes. Yogurt gets EVERYWHERE. And banana cookies make great dippers!
I ate
: leftover
white bean chicken chili
that I made the night before with cheddar cheese and crushed tortilla chips. So good!
Miss A: ham and cheese wrap with tomato slices, which, she didn't eat, but she LOVED them a few days ago.You never know with this girl.
Afternoon snack was on the go. We attempted to tackle some Christmas shopping but failed miserably. Why are men so hard to shop for? She ate some Mum Mum's, a granola bar, and cheerios.
Dinner was early since I was starving and didn't take a handy dandy snack cup for me!
I ate
:
slow cooker ranch chicken
over brown rice and roasted carrots, which I'll be adding to our dinner rotation, it was that good!
Miss A: the same, which she devoured and begged for more! I love when she's a good eater.
What good eats have you had recently?